Want the lowdown on what's moving European markets in your inbox every morning? Sign up here.
Good morning. The tech selloff intensifies, the U.K. government sparks outrage and a vaccine trial is halted. Here's what's moving markets.
Correction
The selloff in U.S. tech shares picked up steam as the Nasdaq 100 index dropped 4.8% on Tuesday, leaving it around 11% off the record it hit a week ago as mega-cap names like Apple Inc., Microsoft Corp. and Facebook Inc. all slumped. Their drops were left in the dust, however, by Tesla Corp.'s 21% plunge, which took a hefty toll on Elon Musk's wealth. Nasdaq futures have settled down going into Wednesday and investors are left nursing their wounds. That includes bond bears, those who tried to buy the dip and Japan's SoftBank Group Corp., which slid again in Tokyo after it had made big bets on derivatives in tech stocks prior to the bloodbath.
International Law
Brexit has come roaring back into focus with the latest round of talks this week putting pressure on the pound and bringing forward bets on when the Bank of England will next cut rates. It's likely to be a wild ride ahead for U.K. investors. A new battle is also brewing as we await updates on what, if any, progress has been made in the negotiations. Northern Ireland Minister Brandon Lewis conceded the government will break international law by attempting to rewrite the withdrawal accord reached with the European Union, an admission made just after two of the country's most senior legal advisers quit. That has caused outrage within the Conservative Party, with lawmakers warning it would damage the U.K.'s global standing.
Trial Halt
There's not much to be optimistic about on the vaccine front. AstraZeneca Plc has been forced to pause its trials after an unexplained illness in one of the subjects and scientists cast doubt on Russia's vaccine, saying some of the findings in a study of the drug seemed improbable. There will be more focus again on virus numbers coming out of Europe in the near future too. After a summer when restrictions were eased and containment procedures became more lax, cases in France hit a new peak and infection rates are also increasing in Germany and the U.K. The latter tightened limits on social gatherings and warned people to avoid "complacency."
Biden's Economy
Democratic presidential nominee Joe Biden is launching a new push on the economy as polls show him gaining on President Donald Trump in voter trust on the issue. The president's polling in battleground states has also rapidly shifted, from a comfortable position when the year began to close contests nearly across the board as the pandemic slammed jobs and businesses. Biden's campaign also had a record fundraising haul in August, while the president is reportedly considering spending $100 million of his own money into the race. Biden also demanded proof the president won't politicize a vaccine and Trump claimed it would be an "insult" if Kamala Harris, Biden's running mate, were to become the first female president.
Coming Up…
European stock futures are drifting following a much-less-significant decline for the Stoxx 600 on Tuesday than its U.S. benchmark counterpart. Asian stocks declined across the region, with concern around vaccine delays creating new jitters. Oil continued to extend losses amid growing doubts about global demand and with the drop in stocks undermining sentiment. The economic data and earnings calendar is pretty quiet in Europe, with attention likely to turn to the European Central Bank meeting coming up on Thursday.
What We've Been Reading
This is what's caught our eye over the past 24 hours. 
And finally, here's what Cormac Mullen is interested in this morning
The 'froth' has been successfully taken out of the U.S. stock market and any further downside in the current move looks limited, if a credit market gauge is any guide. Spreads between the lowest level of investment-grade debt and the highest-rated have shown a close relationship with the S&P 500 all year — at least until last month's stock surge saw a significant gap open up. As I noted at the time, that made the seemingly relentless rally look vulnerable to a correction. But the three-day snapback in the U.S. equity benchmark suggests stocks are now back at 'fair value' relative to their credit peers, and any further weakness should be mild. Of course 'fair value' versus credit does not necessarily mean fundamental value nor indeed good value, given the massive distortion in that market created by the unprecedented monetary firepower of the Federal Reserve. Still, the credit gauge covers the so-called powder keg sector that's most at risk of downgrade to junk status and is a good measure of investor appetite for risk in the corporate bond market.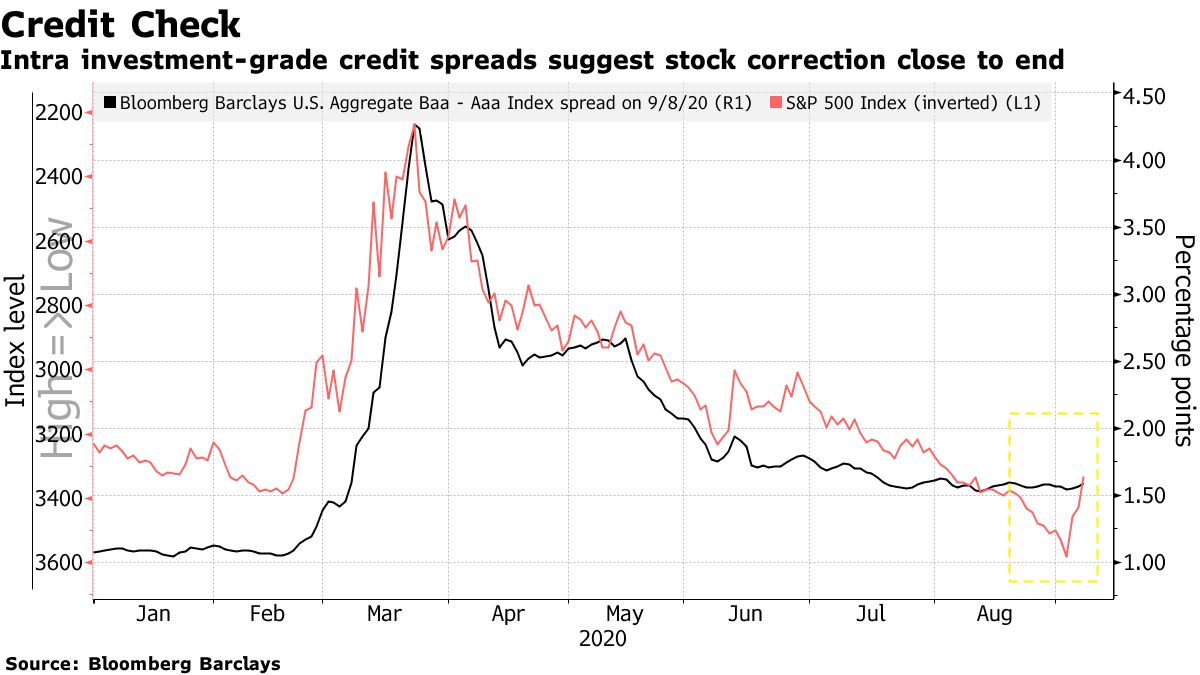 Cormac Mullen is a cross-asset reporter and editor for Bloomberg News in Tokyo.
Like Bloomberg's Five Things? Subscribe for unlimited access to trusted, data-based journalism in 120 countries around the world and gain expert analysis from exclusive daily newsletters, The Bloomberg Open and The Bloomberg Close.