It's important to be prepared (especially if 2021 is anything like this year). Here are the top HR technology trends you need to know about to ensure your human resources department runs smoothly.
2020 — what a year. And what a year it's been for HR professionals. Whether it's been creating remote work policies, or working out how to run performance reviews via Zoom or Skype, implementing Slack and other electronic communication policies, or just checking in on their employees' well-being, HR managers have seen it all.
And that's if your company can work remotely. Managing quarantines and COVID-19 testing has constantly been on the minds of businesses in industries such as hospitality and construction.
But all this means that technology is more important than ever before. Trying to run a business during a pandemic is hard enough, let alone without the right HR software to support you.
Here are the HR tech trends to look out for in 2021 to ensure you stay ahead of the curve.
1. Employee wellness
Many companies have only previously paid lip service to wellness, not knowing how to implement it or understanding what impact it would have on their businesses.
But 2020 saw a shift in priorities. Companies checked in on their employees much more often. Coworkers made an effort to stay connected, whether that was through quick virtual coffee chats or remote quizzes and events.
Many people also started to prioritize their physical and mental health. This will drive companies to take a more serious and structured approach to employee wellness, and ensure that wellness programs create a happy and thriving workplace and organizational culture.
To do this, companies need to ask employees what they want. Gone are the days (for the moment, anyway) of office-specific perks such as free fruit, fancy coffee machines, and foosball tables.
Instead, employee wellbeing programs will focus on areas such as:
Online emotional/mental health support
Financial well-being
Work/life balance
Creating meaningful relationships with coworkers
Giving back to the community
Telemedicine services
This will also mean that companies will need to revisit their benefits administration policies to ensure they reflect employees' new working environment and changing needs.
2. Remote working forever
The switch to remote working has changed the game for many companies and led to a shift in mindset. Previously, many businesses were reluctant to let employees work remotely for more than a day or two each week. Presenteeism — the idea of staying at work longer than required just to make a good impression or hold onto your job — is on the decline.
Now, companies like Twitter are announcing that their staff will be allowed to work from home forever. Many businesses are creating specific remote work policies that evolve as they encounter different situations.
Companies need the right HR technology to help them cope with one of the most important human resource technology trends. This includes:
Virtual performance management
Employee self-service portals
Remote access to paychecks and other payroll information
Comprehensive absence and leave management functionality
3. Gig economy and contractors
As companies wake up to the fact that they don't need their employees to be in the same physical space every single day, they will also realize the benefits of using contractors.
Instead of having to go through the entire hiring process because you've gained a new customer, you can tap into a global workforce of specialized and highly-skilled workers. Used in conjunction with a happy and healthy employed workforce, contractors can fill temporary skill gaps, or be used on a long-term basis for hard-to-fill positions.
Companies will begin to understand how they can get the most out of these gig economy workers, as well as how to track these new costs. You can use the HR tool Workday's built-in people analytics tool to keep track of your contractors and how much they are costing your company.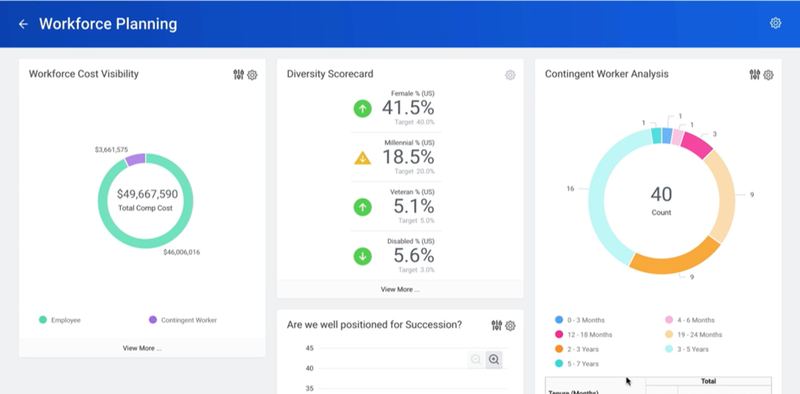 4. Self-service shift management
With a lot of the new HR trends focusing on subjects related to remote work, it can be easy to forget that a lot of people cannot work from home. Take the hospitality industry: These workers have to show up every day to serve customers in a physical location.
This means that companies need to streamline their shift management process, making it as easy as possible for workers to change shifts when needed (for example, if they have to quarantine) and to check in themselves using their own technology, rather than that of the company.
5. Virtual onboarding
While many companies froze hiring during much of 2020, the next year will likely see some creation of new jobs. But companies need to work out how to onboard new employees who they may have never met, and who haven't met their coworkers either. This will range from delivering and setting up IT equipment to working out how to best integrate new hires into your team and helping them bond with their new coworkers.
Make sure to set aside extra time to check in regularly with your new hires, and encourage members of their team to reach out to their new coworkers to have informal get-to-know-you chats about non-work stuff.
HR platform Namely provides onboarding templates for different types of employees, including contractors. To set up the process, you send the new hire an email, they create an account with the software, and then they can fill in forms and supply the necessary paperwork to meet regulatory requirements. E-signature functionality ensures the process is paperless.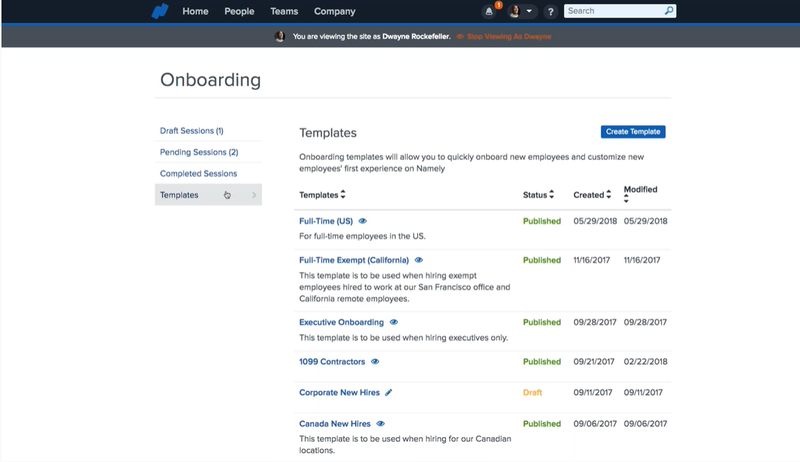 Also, keep an eye on new hire satisfaction rates and any feedback they may have for your virtual onboarding process. Working out how to virtually onboard new hires is not one of the easiest trends in HR to deal with. It might lead to employees not sticking around or feeling they have the right support or tools to do their job to the best of their ability.
6. Retraining and upskilling
In 2020, many businesses were forced to shift the focus of their products and services, or to offer entirely new ones, just to survive. Take real estate companies: With the introduction of social distancing and lockdowns, they had to switch to virtual viewings to try to rent and sell houses.
Gin distilleries are another example; many pivoted to making hand sanitizer temporarily. And a variety of manufacturers stepped up the plate to make PPE for healthcare workers and other frontline employees.
Some new processes and focuses may be here to stay, or will at least continue throughout 2021. This will require retraining and upskilling employees to ensure they have the right skills to keep your business operating no matter what challenges lie ahead.
Lockdown has also been a time of reflection for many people, so you might see employees thinking about career changes or seeking new rules. It's important to be flexible if you want to retain your most talented employees.
Companies that haven't previously prioritized training will need to create more structured learning and development programs and track their success in generating the necessary skills.
Zoho People can help you measure performance metrics and tie that to learning and development through its learning management system (LMS). It's useful for remote training as it connects learners and trainers virtually to share, debate, analyze, and understand perspectives. Learners can participate in course discussions and share their thoughts on the materials provided.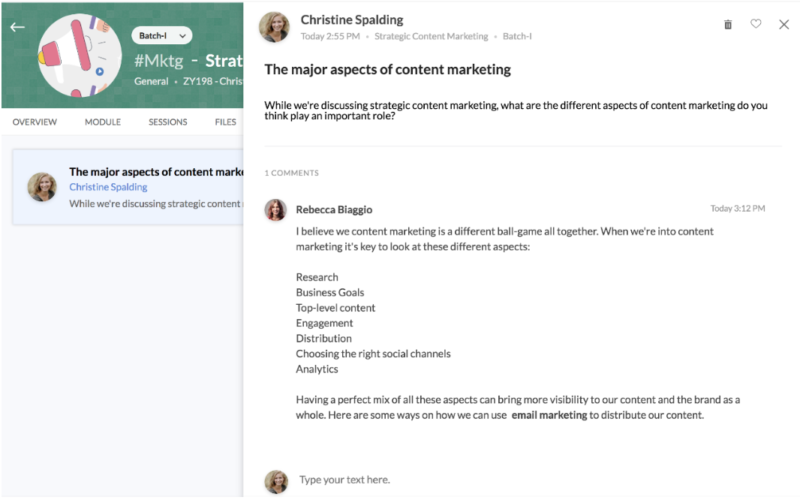 Staying up to date is crucial
The HR department is a huge driver of business success. 2020 was a particularly difficult year for employees, and HR professionals had to deal with a lot of change and moving pieces.
That's why it's so important to stay up to date with the latest technology trends in human resource management so you can run an agile HR department and be in a position to quickly adapt and thrive, whatever the world decides to throw at you.