This is the second feature in a series looking at the complexities inherent in the 2020 baseball season. For Part 1, see "A New Path Forward" in the August 2020 issue of Yankees Magazine.
Something has to be fully off the rails if the Yankees' traveling secretary is holding a press conference. Even in a hellscape such as 2020, when all communication is conveyed through emails and Zoom windows, it's jarring to see the actual incarnation of George Costanza's superior fielding questions from the New York media.
Yet for the Yankees, the first week of the 2020 season was in many ways a microcosm of the aborted Spring Training from February and March. The joy and elation of baseball's return — of Gerrit Cole outdueling Max Scherzer on Opening Night, of Giancarlo Stanton home runs, of late-inning heroics from Gleyber Torres — gave way to a record scratch and then silence, a mission stalled and stranded in a Philadelphia hotel.
The Phillies had just come off a season-opening series against Miami as COVID-19 silently spread through the Marlins' clubhouse. With concerns about exposure, the Yankees' games in Philadelphia were postponed. And since the Orioles were in a similar situation — their own games against the Marlins were similarly shelved — eventually the Yankees decided to decamp from Philadelphia to play a pair of abruptly scheduled games in Baltimore. Have bats, will travel.
Ben Tuliebitz, the Yankees' director of team travel and player services, was the guy who had to hammer all the nails. "We had our equipment truck waiting on standby; we had bus drivers on standby," he said. He told the team to be patient until they heard from Yankees general manager Brian Cashman. Around 2:30 p.m., the call came in saying it was official. "I think we left Philadelphia around 5 o'clock, rolled into Baltimore, got a workout in, then came back to the hotel and picked up where we left off," Tuliebitz said.
Under normal circumstances, Tuliebitz and his counterparts around the league have these details worked out eight to 10 months in advance. But 2020 is nothing if not a knuckleball. And as with everything else in the game — and the world — right now, it's not enough to get things done; it's about making sure that every decision is made with an eye on safety, health and stability. So the Yankees have created essentially a mobile compound to minimize the time players have to spend in cramped visitors' clubhouses. In addition to hotel rooms for players and staff, Tuliebitz and his crew secure spaces in the hotels for video work, massages, medical treatments and meetings. The dining areas need to be big enough to accommodate social distancing, and the buffets have given way to individually packaged meals. The goal is to keep the players healthy and safe — and most especially, to give them everything they need so that they won't ever have to leave the premises.
"I'm doing my part to make sure we're buttoned up," Tuliebitz said.
The sentiment carries throughout the sport. You don't need a baseball game to know that everything is upside down in 2020, but once you tune in, it's impossible to ignore. So whether due to a lack of fans in the park, a broadcast team split between booths and states, or just a schedule that can change from one minute to another, baseball has players and fans on their toes more than ever before. What else could you expect after the past six months?
"You've got to stay in the athletic position, ready for anything," said Yankees manager Aaron Boone. "But we have to perform under it."
***
Gio Urshela stepped up to the plate at Yankee Stadium in the bottom of the second inning on Aug. 1 against the archrival Red Sox. The bases were loaded and the Yankees were ahead, 1-0. The sport yearns for these moments, and they arrive as full-bodied panic attacks.
Urshela dangled his bat a bit in the batter's box, then drove Zack Godley's offering off the top of the wall in center field and into the netting above Monument Park. Up in the Stadium's control room, a team employee used an MLB-issued iPad to pipe up extra crowd noise as the team celebrated in the dugout. There would be no curtain call, not for a sea of empty seats. And rather than your typical grand slam, which keeps a stadium abuzz for an inning or more afterward, all had returned to normal by the time Brett Gardner stepped in for the ensuing at-bat.
For Urshela, the runs counted and the eventual win was sweet. But as he addressed the media later, there was no doubting the melancholy of a man who knocked down a tree in the forest and waited for a sound to follow. "I really miss the fans making a lot of noise," Urshela said.
The sentiment matched one from Masahiro Tanaka, who made his season debut that same night after recovering from taking a Stanton liner off his temple during a July 4 workout. The veteran right-hander noted the bizarre setting. "You come to realize how much the fans mean to this game of baseball, having them in the Stadium," he said, before joking, "perhaps if the fans were in the Stadium tonight, maybe my fastball would have had two or three miles an hour more."
For all the work that was done to recreate as normal an environment as possible, there can be no doubt that baseball is missing elements of the moments that make athletic achievement special. Home runs are great because they bring your team closer to victory. But athletes are performers, and achievement is supposed to be met by adulation. And it wasn't just the monumental in-game performances that felt a bit emptier. There were career highlights, life-affirming moments, that passed in the blink of an eye. Later in that Aug. 1 game, Nick Nelson took the mound for his Major League debut. In the back of his mind, he said, were all the people who should have been there for such a moment. His friends, his family, his girlfriend, his 11-month-old daughter — they all watched on their own, no doubt cheering as Nelson earned the win while displaying legit heat and a nifty slider. But a FaceTime conversation afterward couldn't replicate the experience of having them witness the moment in person.
Two nights later, and at a much different position on his career timeline, Cole had similar mixed feelings about his first pinstriped appearance on the Yankee Stadium mound. As far as his dreams as a Yankees-loving kid? Well, some of those came true. "I imagined getting a win in the home debut, so I guess we got that one done," Cole said after upping his consecutive-wins streak to 19 and improving to 3-0 on the young season.
And yet Cole couldn't help but think wistfully of what wasn't perfect about the moment. Like everyone involved, the ace understood the limitations in place, and he credited everyone involved with the work they had done to make baseball happen in 2020. But he did spare a moment to mention his wife watching at home with their newborn son, and his parents, as well. "My folks are a little bummed that they couldn't be here," Cole said. "As soon as they can get here, we'll get them out because they're very excited."
***
In addition to the win in his home debut, another aspect of Cole's first days in pinstripes went according to plan. Long before he inked his nine-year Yankees contract, during a conversation with WFAN radio voice Suzyn Waldman in the Bronx visitor's clubhouse, Cole learned how Waldman has much more in her repertoire than baseball analysis. He insisted that the color commentator with the musical theater background make a promise: If he ever signed with the Yankees, she'd sing the national anthem on Opening Day. Good to her word, she grabbed the microphone before the July 31 home opener and sang to an empty ballpark from her radio booth.
"She nailed it," Cole said later, after he stood along the dugout fence and tipped his cap in her direction. "She nailed it! Everybody was talking about it. Everybody was like, 'Wow, she's really good.' Good pace, too. Players always appreciate good pace."
It was a nice and positive moment, one that easily bridged the space between those very few souls in the park and those watching (or listening) from afar. It was also part and parcel of what will be a season-long challenge for the crew tasked with in-game entertainment at Yankee Stadium: How do you make a spectacle out of a party that no one can attend?
Greg Colello is the senior director of scoreboard and video production for the Yankees, and normally, from his perch in the control room, he directs a nightly party full of music, video, stats and replays. The goal, Colello says, is to entertain the fans and fulfill sponsor obligations while also creating the right atmosphere for the players. This year? It's just the players on the field and the handful of reporters in the press box. "And we've tried to keep things somewhat normal for them, give them some kind of familiarity," Colello says. "Obviously there's nothing normal about what's going on. We're not thinking we're going to pull the wool over anyone's eyes or make it seem like it's normal, but if we can at least give them some kind of familiarity, we're trying to do it."
So they run the starting lineup video the same way they would if there were 40,000 fans in the house, and they let the players choose their walk-up and celebration music. They keep stats on the board and make sure everyone gets the replays they need. And in an inspired touch, they display some photos and messages that fans watching at home tweet or post to Instagram with the hashtag #NYYforNY.
"We haven't heard complaints yet so far, so we'll just keep doing what we're doing until we do," Colello says. As for all the games and playful bits that the fans love (and that the players seem to enjoy, as well)? They're still available this year, online at www.yankees.com/gameday. Want to see Aaron Judge unwrap a signed photo of another august jurist? Or a fierce game of Pie Face! between Adam Ottavino and Cole? You're in luck.
"We wanted fans watching at home to have the same kind of fun that they're used to having as part of the ballpark experience," said Stephi Blank, the Yankees' senior manager of digital and social strategy. "Bringing the scoreboard games online helps build the personal connections between our players and our fans."
Colello usually has about 16 other people in the control room with him during games; with the social distancing mandates this year, it's more like six, one of whom supplies the simulated crowd noise during games using audio from the MLB: The Show video game. Mostly, there is an attempt to maintain a baseline din, to offer some semblance of atmosphere while also shielding the players from having their every word caught by microphones. (Jordan Montgomery, for one, is grateful for any help he can get in that regard, but also is playing it safe. "I know my mom's watching, so I'm trying to keep it PG out there, stoic as I can," he said, laughing.)
Certain moments, though, call for a bit extra oomph, and not just after the fact, as in Urshela's grand slam. As Zack Britton attempted to lock down a save on Aug. 3, delivering a 3-2 pitch to Philadelphia's Andrew McCutchen with the Yankees leading, 6-3, and two outs, Colello recalled the commentary from the WFAN radio booth as the drama reached a crescendo. "Rickie Ricardo kept saying on air, 'Whoever is in the sound booth next to me has the volume turned all the way to the right!'"
***
For all the sounds that Colello's crew can manufacture, there's still a void that John Filippelli, the YES Network's president of production and programming, notices in the television broadcasts this year. Quick to point out how impressively his team is delivering a quality product despite working with a staff about half the normal size, he knows that they just don't have the capacity for ambient sound pickup that fans are used to. They simply can't put as many microphones in as many places — bases, dugouts, outfield walls, you name it — because they don't have the staff to engineer it all.
"We can't track what we were able to track before," said Filippelli.
And yet, over the course of a 20-minute conversation, the audio is really the only concession "Flip" makes to the situation at hand. In basically all other facets, he points out the ways that his team has risen to an impossible occasion. "Technically, it's been an unbelievable challenge," he said. "And on an editorial level, it has been a challenge, as well. But we have some very experienced people.
"We have tried very hard to look at this through the lens of creativity and opportunity."
Creativity, such as using spaces that would normally be occupied by fans for cameras that can capture footage from new angles. Or adjusting to the restrictions on the number of camera operators allowed in Yankee Stadium by relying on additional robotic cameras. It's a push/pull effort to deliver the state-of-the-art broadcast that fans have come to expect, such that the limitations aren't noticeable.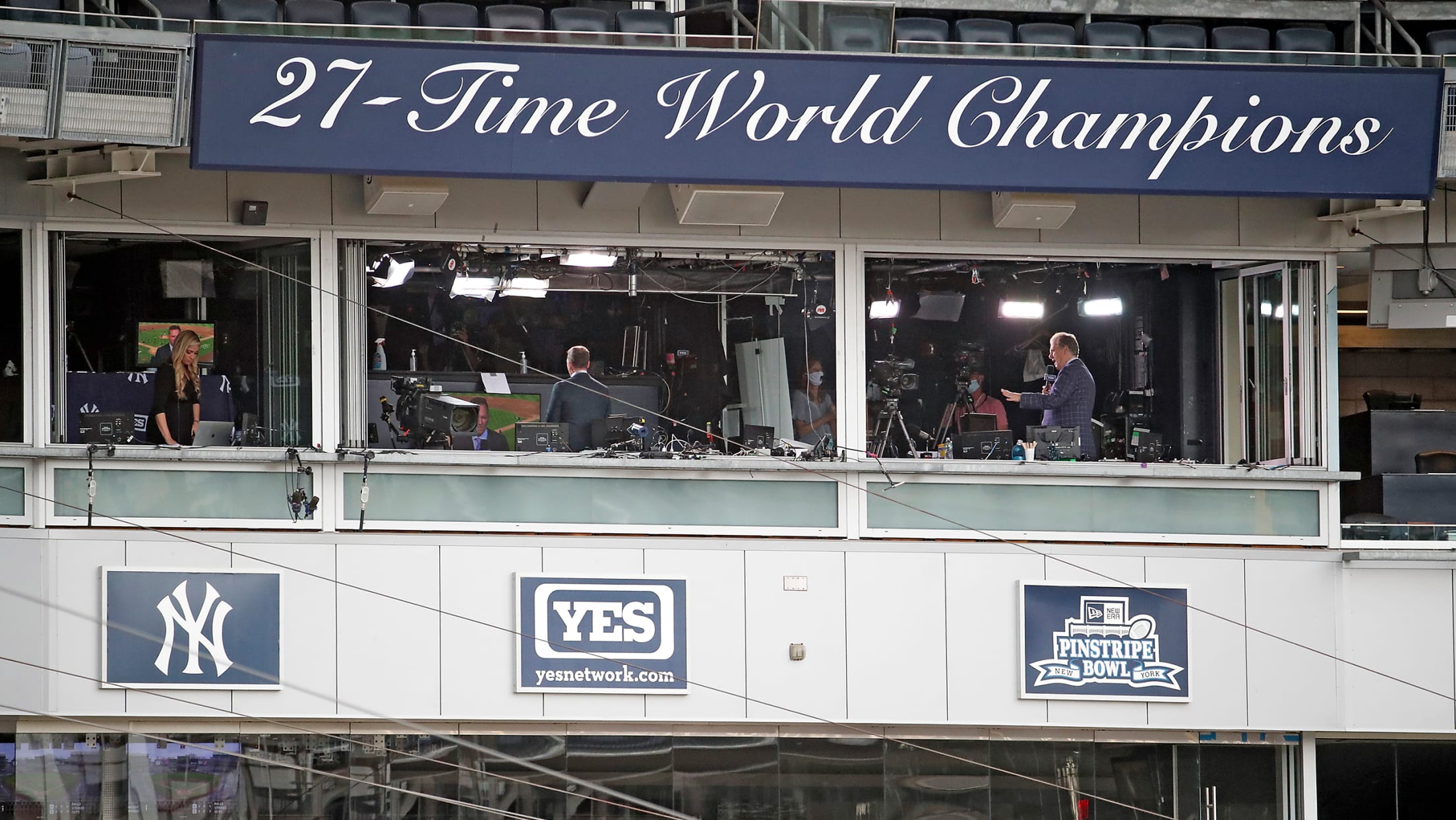 For the announcers, though, the challenges abound. Michael Kay is used to having his analysts right beside him, but over the season's first few weeks, he worked in a separate booth from David Cone, with Paul O'Neill joining remotely from his basement in Cincinnati. Learning how to broadcast in a socially distanced era has been a curveball, to say the least.
"The three of us, when we do the games, we're together," Kay said. "We read body language and things like that, and we know when the other wants to talk. So I think that what you get during times like this is, we're stepping on each other, which we don't like to do, but logistically, it's kind of impossible not to."
But there have been workarounds. After the first game saw O'Neill struggling to pop in to the conversation due to the delay on his end of the video footage, the producers figured out that they could add a live shot of O'Neill to the monitors in front of Kay and Cone. When O'Neill wants to weigh in, he raises his hand. The greater challenge has come when the team travels, and Kay and Cone call the action from an empty — and often dark — Yankee Stadium.
"It was totally weird, and it felt dystopian," Kay said of his first "road" broadcast. "It was really odd. And there were times I got caught between space and time. Somebody got a hit, so I write down the hit on my scorecard. And then I look to the field. I'm doing a baseball game; there's supposed to be something on the field.
"You want to be on the play. You want to be right there. You want to call it in real time. But it's almost impossible. So what I'm learning — and I'm still getting used to this — you've just got to lay back a little bit and let it happen, then comment maybe a second behind, which is always frustrating. But I think that's the only way to get it right in situations with runners on base because you just don't know where the runners are going. That's not the director's job to follow the runners. The director's job is to follow the ball. Watching the ball bounce around in the corner doesn't do me any good because I don't know where that runner on first is going."
"You can't get around the fact that the game talent is broadcasting away games off monitors," said Jared Boshnack, senior coordinating producer for YES. "You can't get away from the fact that all of our talent in studio can't sit at the same desk anymore, so some of them have to work from home. You have to incorporate the new technology that exists, as far as Zoom or using cameras that have Wi-Fi connectivity. You have to embrace it while making sure that the content and the analysis that our fan bases have come to expect from us is still there. That needs to be consistent."
***
And yet, it all works. Could it be that part of what makes this border-bending approach so effective is that fans can sympathize with having to do the same things themselves? At this point, who isn't familiar with the struggles that can come from social distancing or working remotely? In some ways, that makes O'Neill's status in the virtual booth — even if it occasionally comes with a delay — or Boshnack's production meetings that YES posts on Facebook Live so perfectly appropriate for these times.
"This would be the byproduct of unintended consequence," Filippelli said. "We're not geniuses. We did not think of that. But it has worked out, where I think there is some of that in play. People do relate to it."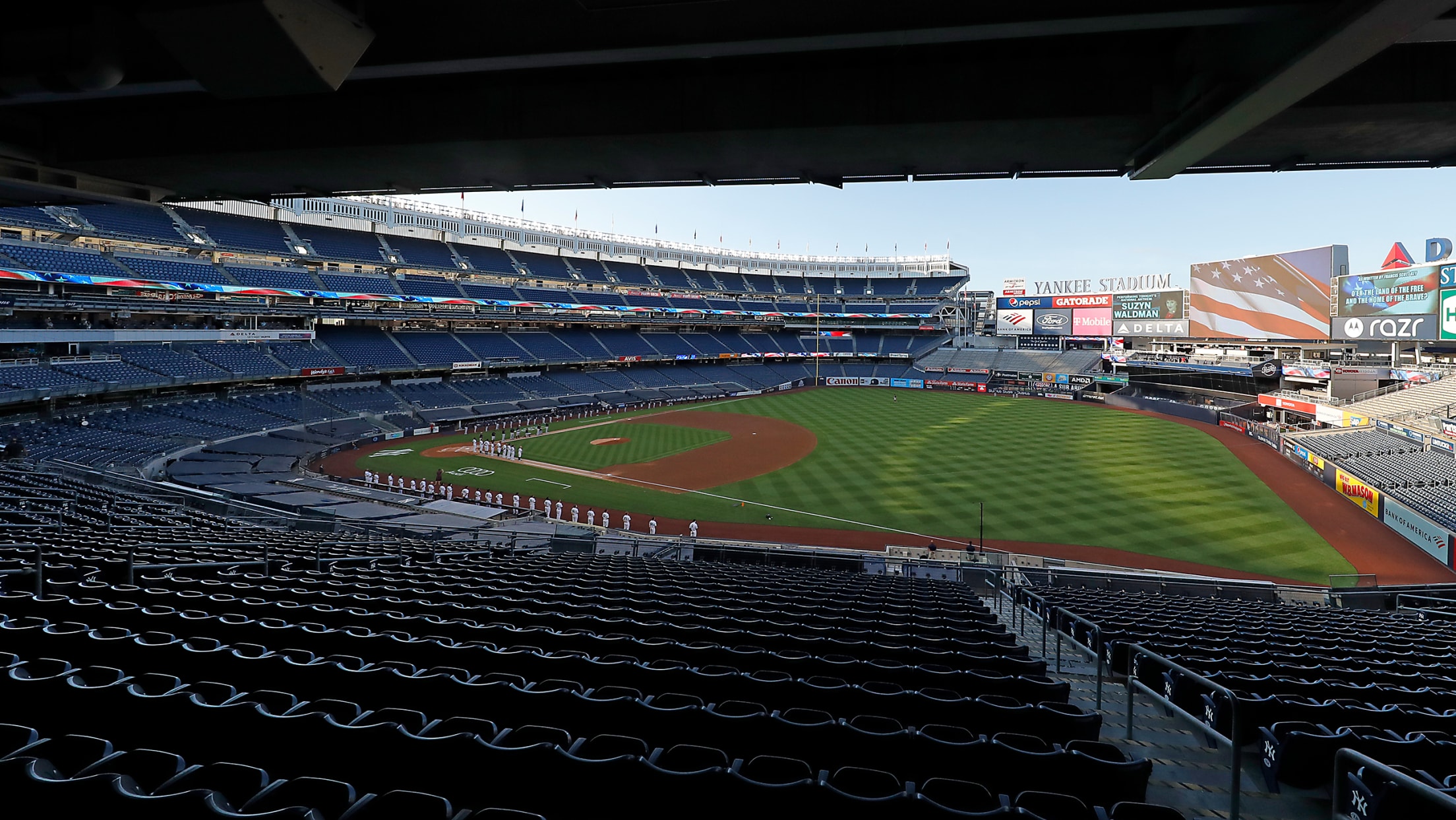 Like so much of baseball in 2020, though, the YES broadcasts were probably better than anyone could have rightfully expected. And to the fans who tuned in — with numbers that through mid-August were 20 percent higher than at the same time a year ago — it was a welcome return. Everyone from the broadcast crews to the stadium operations staff to the players to the traveling secretary dealt with unforeseen hurdles. The shock of it has been how much has been objectively positive, including behind-the-scenes aspects that no one else sees.
"When you have a rain delay and you walk upstairs and watch a movie with your wife for an hour and a half, then go downstairs and call the rest of the game, it's pretty funny," O'Neill said. "But that has happened twice already. So to eat dinner and then throw on a dress shirt and walk downstairs, it's crazy."
Plenty of observers questioned the decision to proceed with the season. It wasn't, despite what you might see on some Twitter accounts or hear from hysterical radio callers, that people were rooting against the sport returning; it was that playing during a global pandemic is far from easy. The Yankees have been lucky thus far, no doubt at least partly the result of careful work and good planning. But it hasn't been sunshine and roses in Miami and St. Louis. It's easy to get sucked in by the regular joys of Yankees games, or simply by the fact that the team played to its elite projections in the first few weeks. But as we've all seen over the past six months, it all can be just a day or two from crashing down.
It was with that precarious hesitation that Tuliebitz, while talking about all the logistical challenges, offered an insightful observation. For all the difficulties, there are unexpectedly touching moments that come from watching the experiment work.
"When we checked into the hotel in Philly on Sunday, the hotel had been closed," he said. "There was a sincere sense of joy from the staff of being back to work. The bell staff opening the doors, guys bussing the tables after meals; there were smiles of people being so happy to be back at work. That genuine appreciation for normal life."
Success or failure can't be judged until one team — whether the Yankees or otherwise — is hoisting a trophy at the conclusion of the World Series. Despite the positive first few weeks, it's too soon to forecast a result. But in the meantime, there is that sensation of normalcy. At the ballpark, your ears pick up the din of crowd noise, but as long as you're watching the game as you normally would, with a tunnel vision locking in on the pitcher and the batter, it's easy to forget how weird everything is. Your brain snaps back to reality at any foul ball into the dark blue void, but otherwise, you find yourself watching baseball, just as you have thousands of nights before.
And so while Urshela might miss fans, or Cole might miss his family; while Tanaka may try to find some extra adrenaline and miles per hour on the mound, and Nelson dreams of finally pitching in front of his family; the sport moves on. The game feels real. The moments count. Kay said that for all the surrealism of calling road games off a TV screen, he has enjoyed the extra time with his family all these months. He doesn't miss the travel. But he's quick to pivot to an alternate reality: He'd gladly travel every day for the rest of the year if it meant that this whole nightmare would end. He'd make that deal in a heartbeat.
In the meantime, he does what he knows how to do. Like everyone else involved in putting on baseball in 2020, he adjusts and does the best he can. The results speak for themselves.
"The first couple of games we did, a lot of people said, 'Just hearing Kay say See Ya !, it's normal,'" he said. "That's what we want people to feel like: That it's normal. There are no fans in the stands, sometimes there's no game right in front of us, but we want people that are watching the TV to feel as normal as possible. I think the reaction has been overwhelmingly positive because they know what we're working against, and they know that in their lives, they're working against stuff, too."
Jon Schwartz is the deputy editor of Yankees Magazine. This article appears in the September 2020 issue of Yankees Magazine. Get more articles like this delivered to your doorstep by subscribing at yankees.com/publications.