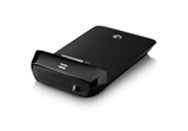 As the name suggests, Seagate's GoFlex series of external storage devices are all about flexibility. By using removable adapters, the GoFlex drives can connect to FireWire 800, USB 3.0, eSATA, to a network, to a TV, and now to Thunderbolt.
The new $100 GoFlex Thunderbolt Adapter doesn't come with a drive or a cable. Unlike every other Thunderbolt product we've tested, the GoFlex Thunderbolt Adapter has just one port, so it needs to be at the end of the Thunderbolt chain.
The GoFlex is also unlike the other Thunderbolt products we've tested in that it doesn't require external power, which is probably the reason that it doesn't allow you to attach additional Thunderbolt devices to it. Seagate said a desktop version with two Thunderbolt ports should be out before the second quarter of 2012 with a price of $199.
Macworld Lab received an early production model of the GoFlex Thunderbolt Adapter and we ran a few tests using a Seagate 500GB FreeAgent GoFlex Ultra-Portable ( ) drive with three different adapters.
We connected the drive to a 17-inch 2.4GHz Core i7 MacBook Pro with 4GB of RAM and a 250GB Toshiba SSD. We ran the AJA System Test and found that, over USB 2.0, we saw write speeds of about 26.0MBps and read speeds of 33.7MBps. With the FireWire 800 GoFlex adapter, the throughput more than doubled, with write speeds of 56.2MBps and read speeds of 70.3MBps.
Using the new Thunderbolt adapter, we saw write speeds of 78.8MBps, or 40 percent faster than FireWire 800. Read speeds were about 79.3MBps, about 13 percent faster than FireWire 800.
We also ran some tests with files and folders. Copying a 2GB folder full of files to the external GoFlex (writing), we saw throughput of 25.2MBps with USB 2.0, 43.4MBps with FireWire 800, and 65.8MBps with Thunderbolt. Copying the folders back to the internal SSD (reading), we saw speeds of 32.9MBps, 61.2MBps, and 67.3MBps in USB 2.0, FireWire 800, and Thunderbolt, respectively. Duplicating the files on the external drive, which tests both its write and read speeds, we saw a speed of 14.2MBps for USB 2.0, 26.4MBps for FireWire 800, and 33.0MBps for Thunderbolt.
Moving around a single 2GB file was faster than the 2GB folder full of files, with 26.2MBps, 49.6MBps, and 77.5MBps write speeds for USB 2.0, FireWire 800, and Thunderbolt. Read speeds were 33.4MBps, 69.4MBps, and 81.3MBps for USB 2.0, FireWire 800, and Thunderbolt, respectively. Duplicating the file on the external drive, we found speeds of 14.4MBps over USB 2.0, 30.7MBps with FireWire800 and 39.9MBPS over Thunderbolt.
Looking at all of the results, it's clear that the performance jump between using the GoFlex USB 2.0 adapter and its FireWire 800 adapter is much more dramatic than the performance differences between FireWire 800 and using the GoFlex Thunderbolt Adapter. This is primarily due to the speed of the external drive, which being a 5400-rpm, 2.5-inch hard drive is not as fast as 7200-rpm 3.5-inch hard drive or a SSD.
Benchmarks: Seagate GoFlex Thunderbolt Adapter
|   | AJA Write | AJA Read | Folder Write | Folder Duplicate | Folder Read | File Write | File Duplicate | File Read |
| --- | --- | --- | --- | --- | --- | --- | --- | --- |
| USB 2.0 | 26 | 33.7 | 25.2 | 14.2 | 32.9 | 26.2 | 14.4 | 33.4 |
| FireWire 800 | 56.2 | 70.3 | 43.4 | 26.4 | 61.2 | 49.6 | 30.7 | 69.4 |
| Thunderbolt | 78.8 | 79.3 | 65.8 | 33.0 | 67.3 | 77.5 | 39.9 | 81.3 |
Higher scores are better. Results in megabytes per second (MBps).
If you add the cost of the Thunderbolt cable to the price to convert your GoFlex to Thunderbolt, you're looking at a $150 premium. Owners of Thunderbolt-equipped MacBook Airs might find this most attractive as FireWire is not a connection option for them.
[James Galbraith is Macworld's lab director.]
Note: When you purchase something after clicking links in our articles, we may earn a small commission. Read our affiliate link policy for more details.