Aspen Technology (NASDAQ:AZPN) embeds artificial intelligence ("AI") throughout industrial environments to help some of the world's largest oil & gas, chemical and engineering companies optimize the value of their assets via fine-tuned process control. AZPN combines years of process modeling and operations expertise with big data machine-learning and analytics to help customers run more efficiently and increase their profitability.
Full-year 2020 Earnings
On August 12, Aspen announced its Q4 and FY2020 results: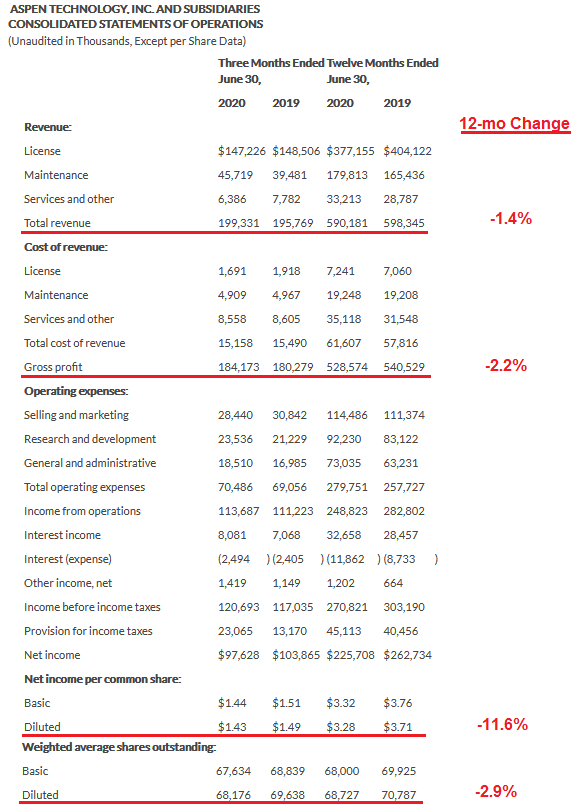 Source: Q4FY20 EPS Report
As can be seen from the graphic above, growth in both the top line gross profits was anemic and actually negative. As a result, per share earnings were down 11.6% yoy.
But you would never know it by the stock price reaction – it went straight up ~25% on the day of the earnings release: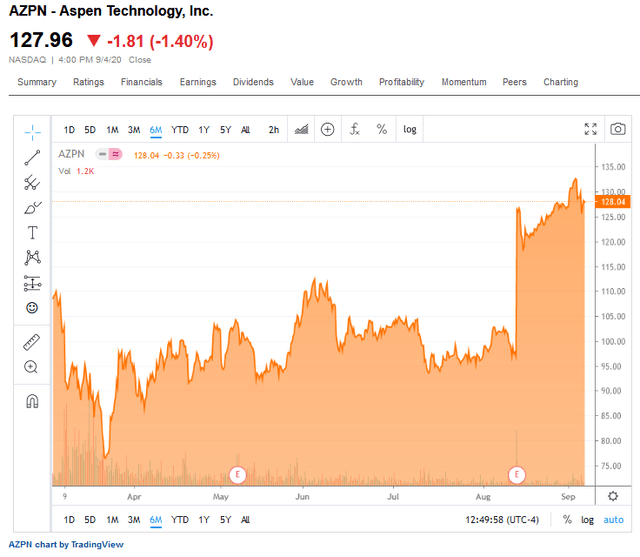 Source: Seeking Alpha Charting Tool
Perhaps, that was because the news was not all bad. Let's take a look at the positive factors:
Repurchased ~1.3 million shares of its common stock for $150 million in FY2020 – an estimated average price of $115.38/share.
Generated $99.5 million in free cash flow in Q4, and $243.1 million in FCF for the year (or an estimated $3.57/share).
FY 2021 Guidance
But what likely propelled the stock was the company's 2021 guidance, and I have taken the liberty of highlighting some of the most important metrics in red: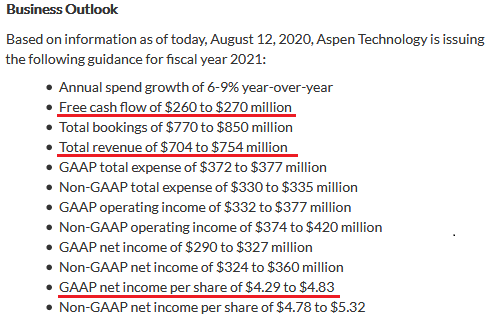 Source: Q4FY20 EPS Report
The midpoint of the full-year guidance ranges implies:
FCF of $265 million, up 9% yoy
Revenue of $729 million, up 24% yoy
EPS of $4.56/share, up 39%
Clearly, management expects the company to get back on the growth track it exhibited prior to the COVID-19 era. While it's not generally a good idea to depend primarily on company guidance (not just Aspen, but any growing software company), note that, in full-year 2019, the company beat the high-end of its guidance range (search for guidance in the FY19 conference call). And I would note the company hit its FY20 initial revenue guidance range this year, despite COVID-19, but came in a tad shy of EPS and FCF guidance. In other words, apparently, AZPN isn't a company that typically over-promises and under-delivers.
Going Forward
Recent contract wins show what kind of businesses Aspen is involved in:
Aspen Tech's "aspenONE" software platform has become somewhat of a global industry standard when it comes to increasing efficiencies through the science of process control. Typically, an oil refinery or chemical plant will have volumes of 100,000 bpd, or more, and run 24 hours a day, 7 days a week. As a result, even a 1% improvement in operating efficiency can deliver millions of dollars of increased operating profits. In addition, once Aspen has penetrated an industrial facility, it is not easy to switch process control hardware and software. That being the case, Aspen has a wide moat when it comes to competition: once it's in, it's likely in for the long term.
I have been writing a lot of technology-related articles lately, and the opportunities that the twin growth drivers of 5G and the Internet-of-Things (IoT) present to software companies. Not to repeat it here, please see my article on the QQQ ETF). And sure enough, Aspen Tech has come out with a new initiate recently called the "AIoT Hub". At the platform's core, the Hub consists of Aspen InfoPlus – a well-established information management system for real-time industrial processes that has already attracted many customers. This system collects large volumes of process data for reporting and to generate analytics helpful to increase efficiency of operations. It also integrates technologies from several of Aspen's recent acquisitions, including:
RtTech Software's cloud-native connectivity software
The ability to assemble and deploy AI-driven IoT applications from Mnubo
Sabisu's enterprise insights and visualization features
In conclusion, AIoT appears to be a well-designed and integrated platform and a natural evolution of Aspen's asset optimizing solutions. AIoT should be a positive catalyst moving forward because it allows Aspen to engage with existing customers to adopt the new IoT tool to improve business results.
Risks
The majority of AZPN's revenue is derived outside of the US, as are many of its 2,300+ customers. As a result, the company is exposed to foreign currency volatility. That said, the weaker US$ could actually be a tailwind.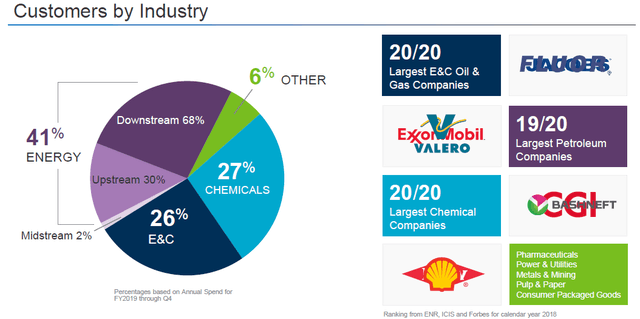 Source: Investor Day Presentation
As can be seen in the graphic above, the company does much of its business with oil & gas, chemicals, and industrial companies that are exposed to the global economy and could be severely impacted by COVID-19. We've seen how negatively demand destruction has affected the fortunes of customers like Exxon Mobil (XOM) and Valero (VLO). The other side of the coin is that these companies are more likely to invest in optimizing existing assets before allocated cap-ex to new projects. And that is what AZPN does: help companies optimize assets (and profits).
Summary & Conclusion
Aspen currently has a market cap of $8.7 billion. Based on TTM earnings, the P/E = 39. From the mid-point of FY21 guidance (EPS = $4.56), the forward P/E = 28. That said, before you consider the current valuation to be rich, consider this: the $243.1 million in FCF the company generated in FY20 equates to a whopping 41.2% of revenue. The point being, this company – like many software companies – has excellent margins. As a result, the company is like to keep its TTM P/E = ~40 … which means, at this time next year, assuming the company hits the midpoint of guidance, the stock is likely to be in the neighborhood of $182/share (up ~40%).
AZPN is held by the iShares Expanded Tech-Software ETF (BATS:IGV), which is a portfolio of ~100 of some of the best software companies. The largest shareholders include Kayne Anderson Rudnick, Vanguard, and Fidelity.
AZPN is a BUY based on its ability to generate tons of free cash flow and its long-term potential to integrate the IoT to help its customers optimize their assets. That said, given the current market volatility in tech stocks, investors should use the volatility to their advantage in order to get a good price. A pullback to $120 would be a nice entry point.
I'll end with the 10-year price chart (up 1,193%):

Source: Seeking Alpha Charting Tool
Disclosure: I/we have no positions in any stocks mentioned, but may initiate a long position in AZPN over the next 72 hours. I wrote this article myself, and it expresses my own opinions. I am not receiving compensation for it (other than from Seeking Alpha). I have no business relationship with any company whose stock is mentioned in this article.
Additional disclosure: I am an engineer, not a CFA. The information and data presented in this article were obtained from company documents and/or sources believed to be reliable, but have not been independently verified. Therefore, the author cannot guarantee their accuracy. Please do your own research and contact a qualified investment advisor. I am not responsible for the investment decisions you make.